Well, hello there again! Hey I know crazy right.... two days and two updates to the site and blog. I've gotta' slow down...!!! Hahahaha Ok, here I would like to introduce to you Maygen and Josh.
A good friend of mine came to me about shooting these engagement pictures of her sister. Of course I jumped at the idea. And what a small world. It turns out Maygen knows Sherissa! Anyway we all met at Cracker Barrel (hmmm, food has to be involved SOMEHOW right..?) and ate a bite of lunch and then headed off to shoot. What a great time I had, and I know Sherissa enjoyed it as well. Oh yeah they wanted to incorporate the UT VOLS into the shoot... that turned out quite cool if I say so myself. I enjoy photography for so many reasons one of which is the friendships that emerge from each shoot. Those that know me know that I am rarely at a loss for words. (well, there was that ONE time...) So through the process of getting to know the client we begin building what has turned into many friendships via. this medium.
Check out the galleries. The first gallery is a sampling of some of my shots and then the second gallery is a small selection of Sherissa's. There are some of those in her gallery that was Josh's idea, but then Sherissa had a twist on that idea and ran with it!
Great job!! What a fun time we had!!! To capture these moments is something that I truly love. So see what you think and wish these two a heartfelt congratulations as they begin this journey through this old world together, as one. May God bless you both. Ok, you know I have to include some of these shots that Maygen's sister took of us in action! It was GREAT to have someone there to capture us as we captured the moments. Check these out, and feel free to leave a comment if you want.
Yep that's me. Posing... well giving posing instructions. And over here is Sherissa w
aiting on me to move to get the shot.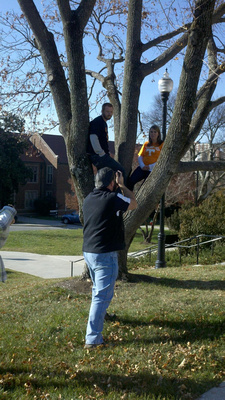 Sherissa REALLY was working to get just the right angle and composition here. Pretty cool that I'm in the shot too. Well, my shadow.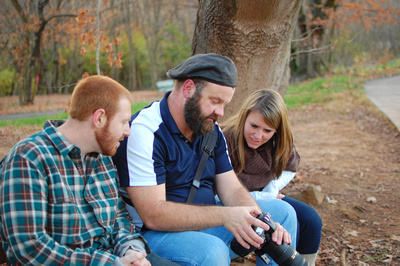 Here is a good one I got of Sherissa as she was pausing while shooting. And I like this one she got of Maygen and Josh getting a quick preview of the pics still in camera. Ok, I gotta' go for now. Catch ya'll later.