During out anniversary week we decided to take a trip to Chattanooga for a weekend getaway. I had this idea we could run down there and eat lunch, shop, and then grab a room for the night (without reservations). Wow, was I wrong... Chattanooga has and continues to grow into a beautiful town. Knoxville is running behind in my opinion for sure. Anyway we did make it down there and did some shopping grabbed lunch then decided to take in Lookout Mountain, Ruby Falls, and Rock City.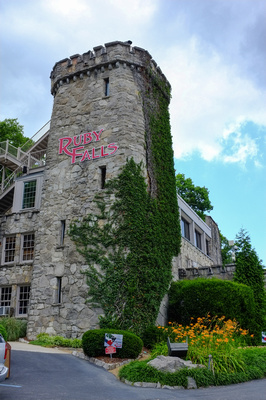 Whew... it was SOOO busy!! That's when we were asked if we were in town for one of the 4 softball tournaments, Riverbend, some other convention or just visiting? Hahaha THAT'S why there were no rooms ANYWHERE and it was packed with people. IT was a great little trip, but next time we'll book a room a little farther out... Here is a gallery of the pictures (Mostly Ruby Falls) which is worth the trip and for sure needs to be seen if you never have. I had been YEARS ago as a kid but it is much more appreciated now as an adult.
I really look forward to going back to Chattanooga for a weekend trip maybe this fall. Such a wonderful town with so much to do.