Hello there everyone!!! November already!!! Seriously... the older I get the faster it seems to go by. Anyway on to the post... Sherissa and I were contacted last year about shooting a wedding for a previous client!! WOW!!! It was such an honor that the bride considered us to capture her special day! After an initial meeting to discuss the many details, venue etc... dates were set and we were booked!!! What an experience... I had such a great time!! We were a little nervous the day of! Here is some of the BTS (behind the scenes) shots from throughout the day. And of course... Here is a link to the gallery which is but a sampling of the memories captured that day. Thank you to Theresa Murr (left)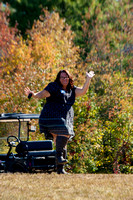 and Stephanie Ratliff
(right) of Happily Ever After at The Barn.
Thank you as always to Sherissa for her creative eye and wonderful help I couldn't have made it without ya'!
And a huge thank you to Marissa and Joey for allowing us the privilege of capturing this day/these memories for them forever.