I was contacted about shooting maternity photos along with possibly shooting the actual baby shower too! This was uncharted territory for me. But after a discussion with Sherissa we decided that we wanted to give it a shot. Enter Heather, Josh, and of course Mackenzie!!!
After the usual text messages and discussion of time, place, etc... etc... to get an idea/feel for what she was looking for we scheduled and then did the shoot! What a BLAST!! I've got a small gallery of the shoot up and ready to view. It was so much fun and yet shows another service that we are happy to provide to people as a means to capture that special moment.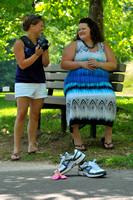 Thanks to Sherissa for shooting the shower as Amy and I were out of town on vacation that week. Here's to all the best to a healthy beautiful baby Heather and Josh. Oh yeah I'd recommend checking out the small gallery of shots also!