Ok, ok, so it isn't really THAT remote! And the somewhere is just off the coast of Florida a little southeast of Panama City. None the less it was a great trip that consisted of relaxing, playing tourist, fishing, and some of the best... no THE BEST Oysters I have ever put in my mouth!! Mmmm yummy!
Oh sorry for the side track there. Amy and I have talked before about how it seems like we plan our vacation around the food/eating. No we really don't pick places based on the food (actually haven't researched any of that for a destination until we're already there). However, I don't think that we have yet to find a "bad" place to eat while we've been on vacation! Hehe It was a great trip! We went with Amy's Mom and Dad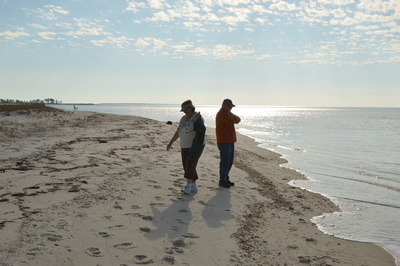 and Lisa a co-worker/friend of ours. (who by the way can COOK and cooks VERY tasty food!!)
Lisa has been to St George Island as have Amy's parents so they all kinda' knew what to expect. It was my first trip so I kinda' planned on fishing (surf fishing on the beach) and checking out the area for future trips to fish and play in the sun.
I wanna go back for sure! We all had a blast. go check out the gallery and let me know what you think. If you have any tips, suggestions, or just wanna comment feel free to leave a comment ,send a message, email, text or whatever form of communication you want to.