Hello again.... I know CRAZY that I am getting to two posts to the blog in one day!! Well, sometimes it works out that way. Ok, I want to introduce to you two very close friends of mine. You have seen them before here on my site... in a gallery of engagement pictures I shot so here's a little info about them. Say hello to Brent and Sherissa!!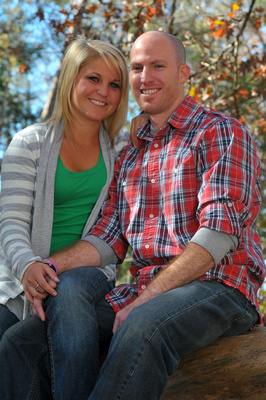 I shot the engagement session (well sessions) for them last year, no wait... It will be two years ago this October! Wow... I know it is so cliche but time really does get away. I have more info about them on the gallery description but here is a brief version of that now. I have been blessed to get to know this couple whom
I work with on my normal "9 to 5". Which if you know me you know that is about the furthest it can be from actually "9 to 5" hehehe. I am very thankful for all the friends that are in my life, including Brent and Sherissa. "Good people" as another friends grandfather would say. Rather than bore you even more with ramblings on how we got to this point I'll just say that here we are now. I wanted to ask someone on board with me to help assist a wedding that I had booked. THAT'S where I thought to myself maybe I'll ask Sherissa and see if she has any interest in shooting pictures. Well, she said she would love to try.... and as you can see
from her first gallery/shoot of Kelly's senior pictures she did a great job!! Even giving a few shot ideas to me that she saw and I didn't! Great job Sherissa!! I'm always ready to share any knowledge I have of photography or capturing moments on time for whatever the occasion is. It is in the eye of the shooter that has to turn each image into a special feeling or thought. To quote one of the masters:
"You don't take a photograph, you make it."
- Ansel Adams
"Photography is more than a medium for factual communication of ideas. It is a creative art."
- Ansel Adams
These are just two of many good quotes that I wanted to share as food for thought when it comes to the art of photography. Too many people (myself included) get caught up in the "gear" or equipment spiral. Thinking that if I get this camera or that camera or piece of gear then I can create better pictures. It is not the camera that makes the photograph but the photographer. I can not remember who said this (so please forgive me for not crediting them) but I heard it said that if you are not at the limits of your current camera, lens, etc...etc.. nor do not KNOW what the limits are then you can not possibly know if you need the newest latest and greatest!
Sorry for the rambling again. I get a little passionate about these things. Oh yeah one more thing!! I about completely forgot to send a big thank you out to Brent also for all he did helping Sherissa with that shoot and me too!
He was a BIG help carrying gear/camera bag and made a GREAT voice activated light stand!! Hehehehe hahaha but seriously gotta' say thanks to him also.